Pat: "The penguin dictator drank a bottle of Diet Poison in his secret lair."
Mike: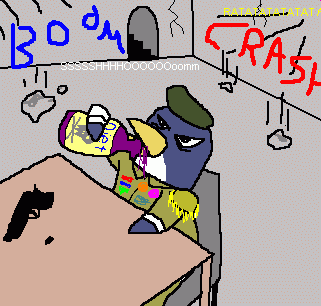 Joe: "Until recently, the traffic cone had an erection all his life."
Pat:
Mike: "It was clear to the depressed traffic cone, that he would require some Viagra."
Joe:
Pat: "The Traffic Cone tells little kids to get viagra."
Mike:
Joe: "As the child sucked on his purple dildo, his friend knew he would have nightmares of a traffic cone raping him."
Pat:
Mike: "While the two brothers in blue bodysuits took turns placing the purple wang shaped party favor in their mouths, one secretly wished he could have a cone up his ass, like he did last summer."
Joe:
Pat: "He knew the tentacle he was pulling out of his friend's mouth was from when he jammed the cone up his butt."
Mike:
Joe: "While he tried to pull the alien out of his friend's mouth by his tail, he felt like he was going to shit his pants."
Pat: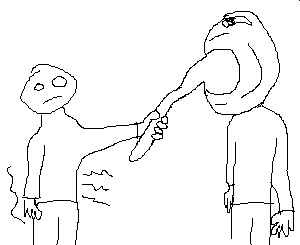 Mike: "He had stomach cramps and gas all day, and having to remind his house guests not to eat the cat didn't help."
Joe:
Pat: "The man offerred his friend a tiger, but he declined, because he had gas."
Mike:
Joe: "The salesman tried to sell him a tiger, but he knew that the farting would just send the tiger into a furious rage."