Mike: "The walls in the mall are totally, totally tall."
Pat:
Joe: "The miniature people were walking out of the mall, after leaving the Bum Co. Store."
Mike: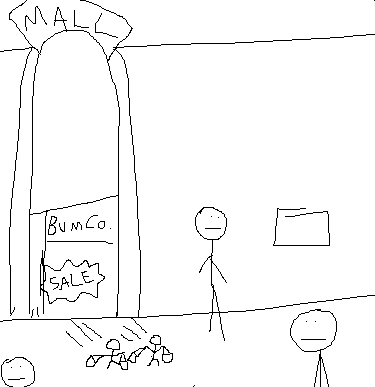 Pat: "Nobody noticed the tiny midgets running out of the minimall with bags of bums."
Joe:
Mike: "The mall security was baffled when the food from Upside-Down McDonalds kept disappearing."
Pat: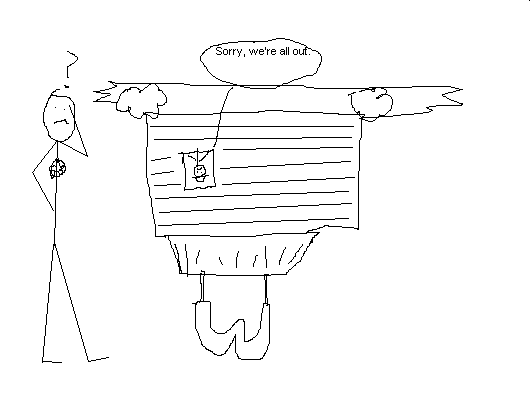 Joe: "The bald lady with very small breasts tried to order a bum burger, but it was only an upside down McDonald's."
Mike:
Pat: "The shirtless man with a shiny bald head returned his burger when he found it was upside down."
Joe: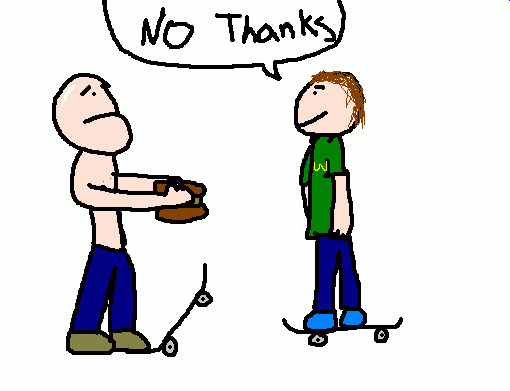 Mike: "ProSkater offered someone an oversized novelty yo-yo in exchange for a shirt and maybe some hair, but the person declined, thinking he was the only one in the world who knew you could turn the McDonalds sign upside-down on a shirt and therefore the coolest guy on the planet."
Pat:
Joe: "The ProSkater tried to trade his YoYo for his hair and shirt, but the guy was too cool for him."
Mike:
Pat: "The guy with the bendy head stole ProSkater's hair and shirt when he lied about his glitching skillz. And they were cats."
Joe:
Mike: "When Catman #1 refused to share his spare board, Catman #2 killed him and ice skated away. Or maybe did a ballerina dance. You can't really tell."
Pat:
Joe: "The ice skating, skateboarding, jester humanoid cat danced a dance of reviving the dead humanoid cats."
Mike:
Pat: "The Voodoo Jester cat summoned zombie cats with his rubber chicken."