prole
"I feel so sexy, with your boot in my crotch."
Gone Jackal

drenny
"Hey baby, you're looking sexxy.. check out my six-pack and my bicep.. OW, my crotch! Uh, is that a no?"
flamingweasel

Becca
"While he is thinking of what gift to get this girl, she thinks he is staring at her chest, so she kicks him in the nuts."
Metacognizant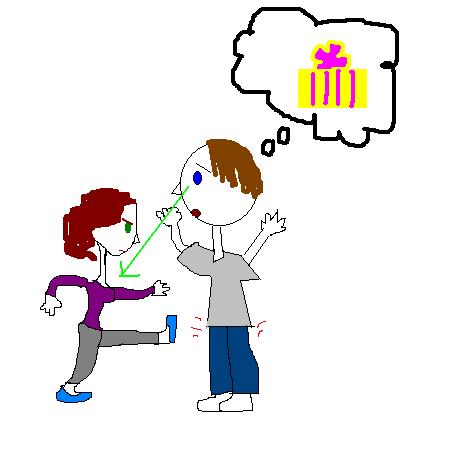 Pseudo_Intellectual
as she menaced my stinky pelvis with her kung-fu moves I was rewarded with a glimpse of her cleavage
Lost and Found

achan
"excuse me, but an insect went down your shirt, I will find it"
Pyrogenic

GangstaFeelsGood
"The detective begged god to let him see the microscopic bug in the suspects underpants"
ChihuahuaGrub

WonkoDSane
Making offering to all the gods and thinking mightily upon the subject, I used my micro-vision to see the parasites upon the haunch of my redneck cowboy friend.
<== Back